Coverage of IDAMS study by GloboTV (link) and Journal do Commercio in Brazil (link).

---
Dengue Vaccine Phase III trials completed:
Sanofi Pasteur press release, 3rd of September 2014:
Phase III clinical efficacy study on dengue vaccine candidate completed in Latin Amerika. Link
Lancet publication, 11th of October 2014:
Results of phase III trial on novel tetravalent dengue vaccine funded by Sanofi Pasteur. Link

---
Dengue Advocacy Report published by IDAMS partner Red Cross/ Red Crescent Climate Centre (RCCC) in cooperation with the Secretariat of the International Federation of Red Cross and Red Crescent Societies. Link
---
EC press release: World Health Day 2014: EU-funded research to fight vector-borne disease. Link PDF
---
Dengue and the FIFA World Cup in Brazil 2014. Nature / World View Column by Simon Hay. Link

---
Bailey K. Ashford Medal 2013 awarded to IDAMS partner. Professor Simon Hay (University of Oxford) has been awarded the Bailey K. Ashford Medal for 2013 by The American Society of Tropical Medicine and Hygiene (ASTMH) for distinguished work in tropical medicine.
---
Invasive mosquito species in Europe - Aedes albopictus found in Southern Germany
The German online magazine " Spiegel Online" reported on 15th of October 2013 about Aedes albopictus mosquitoes found in Southern Germany. Aedes albopictus have been documented in many locations all over Europe. This invasive mosquito can transmit dengue, however with a lower efficacy than Aedes aegypti. In Europe, Aedes aegypti is only present on Madeira Island (Portugal). Link to "Spiegel Online" articel
Please see a review about the comparative role of Aedes aegypti and Aedes albopictus. Link to review
Please also check the updated maps on invasive mosquito species (Aedes aegypti, Aedes albopictus, Aedes japonicas) produced by the ECDC.

Link to ECDC
---
Nature publication of IDAMS research results

8th of April, 2013
Research results of the IDAMS Consortium have just been published on April 7th in the journal 'Nature', finding that the global burden of dengue infections is more than triple as the current estimates from the World Health Organization. IDAMS member Professor Simon Hay, a Wellcome Trust Senior Research Fellow at the University of Oxford, led the study.
The research has created the first detailed and up-to-date map of dengue distribution worldwide, as well as estimates of the total number of people affected by the virus globally, regionally and nationally. The findings of the study reveal that dengue is ubiquitous throughout the tropics, with local spatial variations in risk influenced strongly by rainfall, temperature and urbanisation.
The IDAMS team estimates that there are 390 million dengue infections across the globe each year, of which 96 million reach any level of clinical or subclinical severity. This is more than triple the WHO's most recent estimates of 50-100 million infections per year.
Until now, little was known about the current distribution of the risk of dengue virus infection and its public health burden around the world. These findings will help to guide efforts in vaccine, drug and vector control strategies. With endemic transmission in Asia and the Americas, recent outbreaks in Portugal, and the increasing incidence in Africa, the challenges of making an effective dengue vaccine or controlling the vector are ever more important.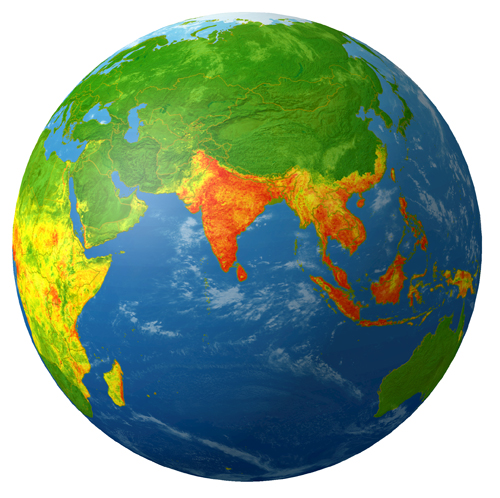 → Read article
Figure: Risk of Dengue as predicted by ecological niche modeling (Janey Messina, Department of Zoology, University of Oxford)
---
Article in The Scientist mentioning IDAMS consortium partner from Oxford University.
---
INDEPTH-IDAMS expert meeting on Dengue in Africa
7th - 9th Feb. 2013 in Accra, Ghana
→ Read more
Press coverage of the meeting in Ghana

---